Report: Cleveland Indians will change their name over concerns team name is racist
The Cleveland Indians, the Major League Baseball franchise that has held the "Indians" name for more than a century, will reportedly change their team name. POLL: Would you take the COVID-19 vaccine?
The development comes as several major league franchises across different sports have dropped their Native American names over leftist claims that such monikers are racist. The Washington Redskins were the latest team to drop their Native America name — and the team still has not announced a replacement — despite the vast majority of Native Americans saying they did not consider the name to be racist.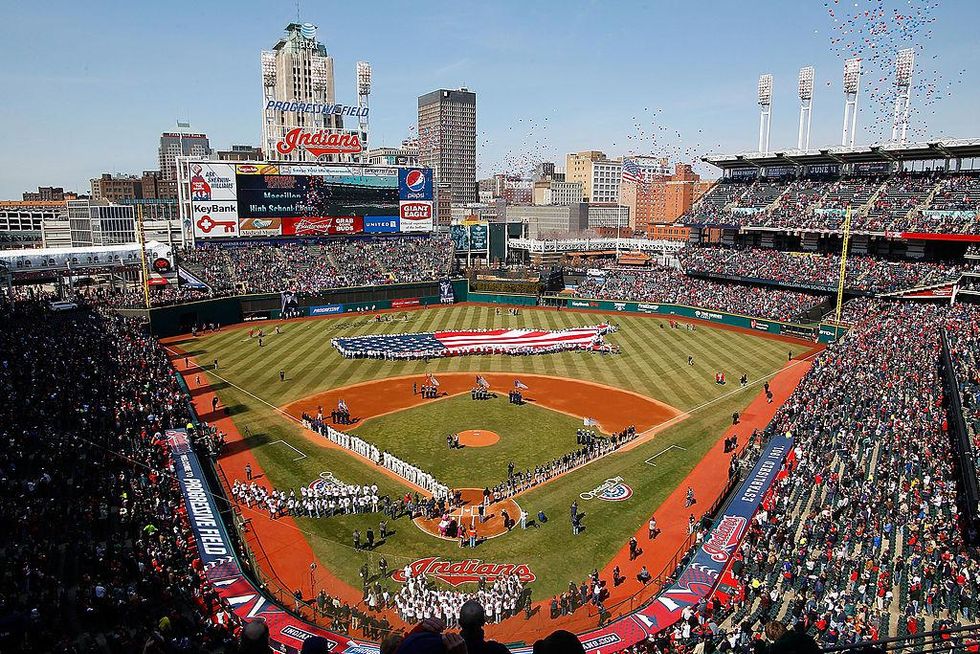 Progressive Field in Cleveland, where the Indians are located. (Jared Wickerham/Getty Images)
According to the New York Times, the Cleveland Indians' announcement about their name change could happen as soon as this week.
ESPN confirmed the franchise has chosen to change its name.
However, it's not yet clear what the baseball team will be rebranded as, nor is it clear when the rebranding process will begin. The logistical hurdle for rebranding an organization as large as a major sports team is significant, because the team will have to coordinate with manufacturers that produce everything from team uniforms to team-branded merchandise and even the manufacturer responsible for massive "Indians" signs that adorns the team's field.
Team sources told the Times the rebranding may not officially happen until the conclusion of the 2021 season, with hopes of debuting the new team name prior to the 2022 season.
The team's decision to change its name is not exactly surprising.
Prior to the 2018 season, the team announced it would remove its controversial mascot, "Chief Wahoo," which critics said was a racist depiction of Native Americans.
"[T]he logo is no longer appropriate for on-field use in Major League Baseball," MLB commissioner Rob Manfred said at the time, the Associated Press reported.
Then, just days before the Washington Redskins announced in July they would change their name following long-standing pressure from team sponsors, the Cleveland Indians said they were also reviewing their team name.
What was the reaction?
Oneida Nation of New York, which led a movement to change Native American team mascots it deemed racist, praised the move.
"This is the culmination of decades of work," the group told ESPN.
"Groups like the National Congress of American Indians passed resolutions for decades on this, social science has made clear these names are harmful and Cleveland got out in front of it and they're leading, and rather than having this hanging over their heads, they're charting a new path," they added.
Are other teams following suit?
Other major league sports teams with Native American names — including the Kansas City Chiefs, Atlanta Braves, and Chicago Blackhawks — have said recently they do not plan to change their names, the Times reported.